When it comes to safe and enjoyable intimate moments, choosing the right condom size is paramount. Bad-fitting condoms can lead to discomfort, reduced pleasure, and even breakage, which nobody wants. In this comprehensive guide, we will explore the ins and outs of condom sizing, helping you make informed choices that ensure both safety and satisfaction.
Understanding Condom Sizing: How to Choose the Right Condom Size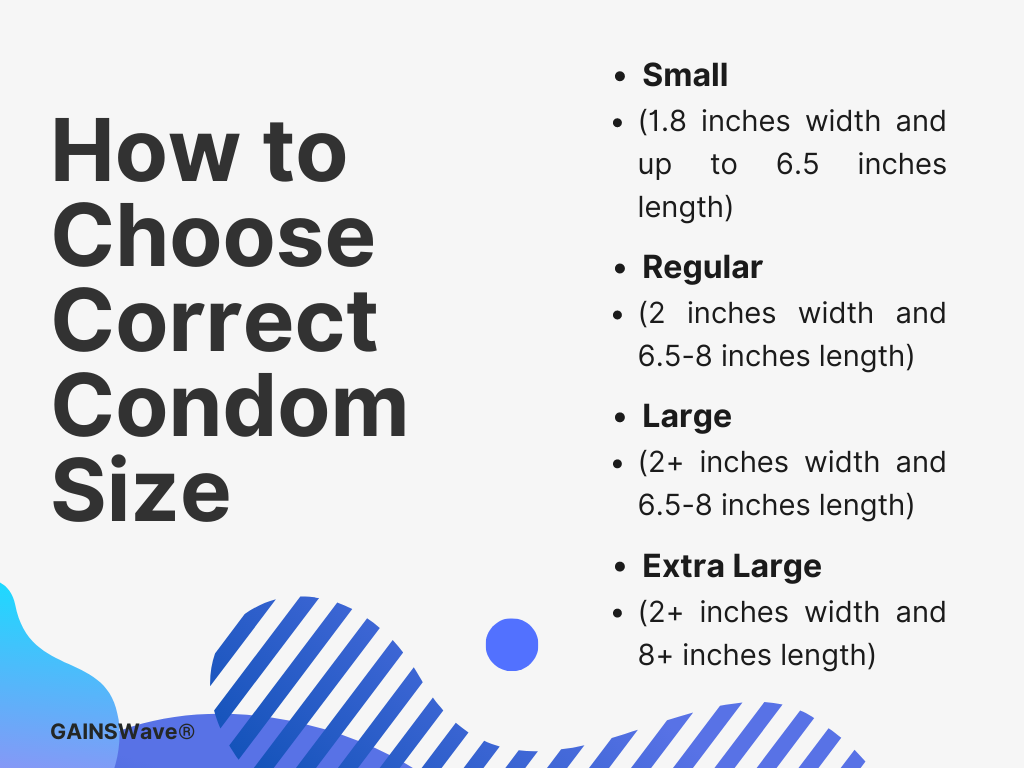 Condom sizing is not a one-size-fits-all affair. To find your perfect fit, consider the following factors:
Anatomy Matters: Before you even think about condom sizes, understand your own anatomy. Measure your erect penis's length and girth accurately to ensure the best possible fit.
Condom Size Categories: Condoms come in various size categories: small, regular, large, and extra-large. These categories are determined by both length and girth measurements.
Finding Your Size: To choose the right condom size, refer to the size chart provided by the manufacturer. Match your measurements to the recommended size range on the chart.
The Importance of Proper Fit: Choosing the right condom size is more than just a matter of comfort; it's a matter of safety and effectiveness.
Comfort Matters: A properly fitting condom enhances comfort during sexual activity. It should feel snug but not constricting.
Safety First: An ill-fitting condom can easily slip off or break, increasing the risk of unwanted pregnancies and sexually transmitted infections (STIs).
Pleasure Enhancement: The right size not only ensures safety but also enhances pleasure for both partners. It allows for better sensation and a more enjoyable experience.
What Is the Average Penis Size?
The average penis length is between 5.1 and 5.5 inches when erect. A 2023 study found the average erect penis length has increased by 25% over the last 29 years. Data aside, perceptions about "normal" penis size differ quite a bit.
Common Condom Sizing Myths
Let's debunk some common myths surrounding condom sizing:
Myth 1: One Size Fits All Contrary to the belief of many, one size does not fit all. Choosing a condom that fits your unique anatomy is essential.
Myth 2: Size Doesn't Matter

Size does matter when it comes to condoms. An improper fit can lead to discomfort and safety issues.

Myth 3: Size Doesn't Affect Pleasure

The right size can significantly impact pleasure, making the experience more enjoyable for both partners.
Finding the Perfect Condom Size
Before you can decide what condom size you need, you must first measure your erect penis size by both length and girth. Use that measurement as a guide as you select condoms that have similar measurements.
Conclusion
Selecting the right condom size is a crucial aspect of safe and enjoyable intimate experiences. Remember, there's no shame in wanting to enhance your comfort and pleasure. By understanding your anatomy, debunking common myths, and following our guidelines, you can make an informed choice that ensures both safety and satisfaction.
Originally published by Gainswave.
Medically reviewed by David Cunningham, MD, GAINSWave's Clinical Advisor.
References
Beksinska, M., Wong, R., & Smit, J. (2020). Male and female condoms: Their key role in pregnancy and STI/HIV prevention. Best Practice & Research. Clinical Obstetrics & Gynaecology, 66, 55–67. doi: 10.1016/j.bpobgyn.2019.12.001. Retrieved from https://pubmed.ncbi.nlm.nih.gov/32007451/
Cecil, M., Nelson, A. L., Trussell, J., & Hatcher, R. (2010). If the condom doesn't fit, you must resize it. Contraception, 82(6), 489–490. doi: 10.1016/j.contraception.2010.06.007. Retrieved from https://www.ncbi.nlm.nih.gov/pmc/articles/PMC5512290/
Cecil, M., Warner, L., & Siegler, A. J. (2013). Online purchases of an expanded range of condom sizes in comparison to current dimensional requirements allowable by US national standards. Sexual Health, 10(5), 408–413. doi: 10.1071/SH13049. Retrieved from https://www.publish.csiro.au/sh/sh13049
Crosby, R. A., Yarber, W. L., Graham, C. A., & Sanders, S. A. (2010). Does it fit okay? Problems with condom use as a function of self-reported poor fit. Sexually Transmitted Infections, 86(1): 36-38. doi: 10.1136/sti.2009.036665. Retrieved from https://pubmed.ncbi.nlm.nih.gov/20157178/
King, B. M., Duncan, L. M., Clinkenbeard, K. M., Rutland, M. B., & Ryan, K. M. (2019). Social Desirability and Young Men's Self-Reports of Penis Size. Journal of Sex & Marital Therapy, 45(5), 452–455. doi: 10.1080/0092623X.2018.1533905. Retrieved from https://www.tandfonline.com/doi/pdf/10.1080/0092623X.2018.1533905
Mahdy, H., Shaeffer, A., & McNabb D. (2021). Condoms. [Updated Apr. 26, 2021]. In: StatPearls [Internet]. Retrieved from https://pubmed.ncbi.nlm.nih.gov/29261966/
Reece, M., Herbenick, D., Sanders, S. A., Monahan, P., Temkit, M., & Yarber, W. L. (2008). Breakage, slippage and acceptability outcomes of a condom fitted to penile dimensions. Sexually Transmitted Infections, 84(2), 143–149. doi: org/10.1136/sti.2007.028316. Retrieved from https://sti.bmj.com/content/84/2/143.short
Trojan. (n.d). Condoms size and fit guide. Retrieved Jan. 26, 2022 from https://www.trojan.ca/en/sex-information/condom-size-fit-guide
Veale, D., Miles, S., Bramley, S., Muir, G., & Hodsoll, J. (2015). Am I normal? A systematic review and construction of nomograms for flaccid and erect penis length and circumference in up to 15 521 men. BJU International, 115(6), 978–986. doi: 10.1111/bju.13010. Retrieved from https://bjuijournals.onlinelibrary.wiley.com/doi/abs/10.1111/bju.13010
Wainipitapong, S., Wiwattarangkul, T., & Bumphenkiatikul, T. (2021). Delayed Ejaculation Due to Improper Male Condom Size: A Case Report. Sexual Medicine, 9(3), 100373. doi: 10.1016/j.esxm.2021.100373.
FAQ
What happens if I choose the wrong condom size?
Choosing the wrong size can lead to discomfort, reduced pleasure, and an increased risk of condom breakage.  
How do I measure my penis for condom sizing?
To measure your penis, use a ruler or tape measure. Measure both length and girth when erect for accuracy.  
Can I use a condom that's slightly larger or smaller than my size?
It's best to stick to the recommended size for optimal safety and pleasure.  
Are there custom condom sizes available?
Some brands offer custom-fit condoms, which can be an excellent option for those with unique sizing needs.  
Do condom sizes vary by brand?
Yes, condom sizes can vary slightly from one brand to another, so it's essential to consult the size chart for each brand you use.  
What if I'm in between sizes on the chart?
In such cases, opt for the slightly larger size for comfort and safety.