Blade Thomas' GAINSWave Story – Part 5 of 8
"Will I have strong enough erections to have intercourse by Thanksgiving?" Blade is making great progress with his GAINSWave® treatments, but he's on a tight deadline to romance his girlfriend in just a few short weeks. Will he make his deadline?
My Moment of Truth … Treatment #4 of 6
Ok, this is the halfway point. I've completed 3 of my 6 treatments and this is my report on #4. It's worth noting that so far, I'm pleased that I can actually notice the difference and that the increased blood flow is improving the quality of my erections. Plus, it's also making me want sex more, and more. I'm starting to feel younger about my need and desire for sex again.
This new drive is not just in my head and my imagination; it's in my body and my penis. I'm so glad I decided to do this therapy. I'm also realizing how much I've missed getting sexually aroused. I especially like waking up in the morning with a semi-erection. Makes me feel like a kid again!
I'm a GAINSWave Veteran
By now I'm a GAINSWave veteran. I know exactly what to do. I report in with the receptionist. She gives me the numbing cream. I go into the bathroom and apply it, wash my hands, then wait for it to kick-in while I hang out in the lobby area watching TV and perusing the bevy of magazines.
This time I notice there are more men in the waiting room than usual. I guess word is getting out and guys are signing up for the same reason I'm with GAINSWave – to remedy my ED and get back my mojo.
I kind of giggle inside when I see guys who look like they are here for their first treatment. I know they are acting cool, but deep down inside they too are wondering what the hell they've gotten themselves into. Believe me, this is a vulnerable place for men.
Nobody, and I mean nobody talks about their treatments in the waiting room. Everyone keeps to themselves and watches TV or reads the business or sports magazines.
I fill out my one-page questionnaire about my erection quality over the past week. The nurse calls my name and takes me to the treatment room.  This time it's room #2. Looks like all the other treatment rooms.
I take a seat on the medical lounge chair and do a little meditation as the numbing cream goes to work. Soon there is a knock on the door and in walks a man I've never seen before in a white coat. He introduces himself as Dr. David and says he will be administering my treatment today. He says he usually works with the doctors who want to integrate GAINSWave into their medical practice. He's been doing this for about 2 years and helps teach the doctors the procedure and protocols.
I'm Getting Closer to My Goal: Spontaneous Rock-Hard Erections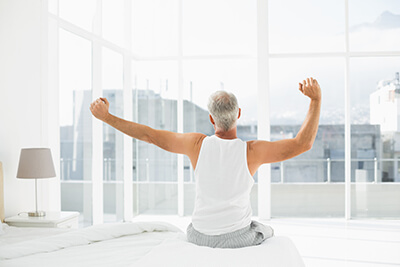 This eases my natural discomfort about having another man touch my penis. I wonder what happened to Juan, and when Vanessa is coming back. But no matter; I'm here for treatment #4 and I'm seeing improvement. I'm getting closer to my goal of having spontaneous rock-hard erections!
He looks at my chart and says, "Blade, treatment #4. What changes in your erection quality are you experiencing?"
I know this is a good and natural question to ask, but I'm still shy about talking about my erection quality with strangers, even doctors. So, I think for a moment of what I can say that will make sense and not make me look like a numb dick (that's a joke since I'm loaded up with numbing cream right now).
"I think I'm making progress, doc. I woke up this morning with a semi-hard-on, and also the morning before.  I don't have a sex partner right now so my orgasms come from masturbating. Plus, the quality of these orgasms is really getting better and better.
In the old days when I had orgasms, it was pretty centralized on my penis and in my brain. Now I notice that the sensations are even more pleasurable in my penis and the orgasm also runs down both of my legs, mostly in the outer thighs, up my torso and even into my arms, chest, and shoulders. It's really quite remarkable. I never really had such sensations."
Dr. David looks at me and says, "That's good! Really good! What's your erection quality like. Is it strong enough for penetration?"
I say, "No, not really. It's much better, but still only 50% to 60%. Maybe five-eighths; but definitely not yet rock hard."
He says, "That's still pretty remarkable improvement. I see you are taking the blue tabs every other day. Has that been helping?"
I Like the Blue Enhancement Tabs!
"Yes," I say. "I like the blue tabs. They don't clog up my sinuses or blur my vision. I do notice that I'm craving sex more than usual. I'm kind of horny most of the time too."
The doctor says, "Blade, this is all good news. It's important to remember that your ED didn't happen in a few days or weeks. It took years for the blood flow to diminish to the point that you were unable to get firm erections. You're on the fast track to correct that.
I've worked with hundreds of patients over the past two years and we are experiencing a 70% to 75% success rate. It doesn't work for every man, but it works for most and it appears to be working for you. Plus, you are getting a combination therapy of GAINSWave and enhancements with the blue tabs which speeds up the process."
As the doctor continues with the sound wave therapy on my penis, he asks if I have any questions about any of aspects of the GAINSWave treatments. I think for a moment, not even knowing what to ask. But suddenly something comes to mind that is in the front of my mind. "So, do you think this is going to work on me and that I am going to get to have strong enough erections to have intercourse again … by Thanksgiving?"
He looks at me and says, "I don't know. What's your rush?" I, of course, give him the short version of my art professor/retired ballerina/sculptor/cellist that wants to have a relationship with me but insists on good hot sex, ON DEMAND.
GAINSWave Stimulates Cell Division in Penile Tissue
Then he says, "I really don't know about that. I hope you get what you want, but I can tell you this much: The research scientists who helped refine this protocol for GAINSWave postulate that the low-intensity radial acoustic sound waves stimulate cell division and promote neovascularization – developing new capillaries and unblocking blood vessels. They think this process is what triggers better blood flow and better erection quality."
Your Own Stem Cells at Work
The sound waves stimulate cell division which creates new capillaries without actually injuring the tissue. They think your own stem cells are at work helping to create this new vascularization of your penile tissue. This process will continue to rebuild and regenerate your blood flow even after you complete your 6-treatment session.
This means that you will continue to see improvements for weeks, even months after your last treatment."
For some reason all this is very comforting for me to hear. I'm not sure I understand completely what Dr. David said, but he said it in such a way that it made sense and I felt I was in the right place doing the right thing to get my manhood back. After all, I was waking up with semi-erections in the morning now and that hasn't happened in a long, long time!
And so I finish treatment #4. I check out with the receptionist and verify my next appointment.
#1 10 Weeks to My Erection Recovery
#2 What Have I Gotten Myself Into?
#3 I Thought I Felt Something, But I'm Not Sure
#4 More Sex Drive… and Better Sensations